Pros and Cons of Shaker Style Cabinets (Updated)
The jury is in, and the verdict is unanimous. Shaker style kitchen cabinets remain as universally popular today as ever. But just what is it about Shaker style kitchen cabinets that have secured their place as a kitchen design classic? That's what we're going to focus on today starting with a brief history of the Shaker style.
A Brief History of Shaker Style Cabinets
The Shakers were a religious sect who first arrived in the United States from central Europe during the late 1800s. Originally settling in New York City, subsequent arrivals spread out to populate New England, Michigan, Ohio, Indiana, and Kentucky over the next hundred years. It wasn't just their strict values, unusual spiritual ideas, ecstatic worship services (notable for the frenzied shaking that gave the sect its name) and celibate lifestyle that set them apart but their exceptional skill as craftsmen. Believing that material desires, excess, and adornment offended God, their style of woodwork though accomplished tended toward the austere and utilitarian.
Now, nearly 250 years later, the Shaker style remains a top choice for kitchen cabinet doors and drawers. In fact, several modernist furniture designers from the early 1900s drew inspiration from the Shaker movement including icons like Hans Wegner and George Nakashima.
What Features Define The Shaker Style Cabinets
As per the Shaker's unwavering commitment to functionality, their furniture and cabinetry display certain defining features.
These include:
Using the minimum amount of materials,
Using the best quality hardwoods available, commonly birch, maple, pine, chestnut, cherry, ash, hickory, and oak,
A five-piece door – or drawer – front with flat recessed panels, light stains or natural finishes, basic hardware – or in some cases, a recessed groove with which Shaker cabinet doors and drawers can be opened, and an absence of flair,
Moderate proportions, straight lines, and squared edges.
Shaker Style Kitchen Cabinets Vs. Raised Kitchen Cabinets
When it comes to selecting cabinets for your kitchen upgrade, raised cabinets are a strong second place contender to Shaker style cabinets. And as with most things in life, there are pros and cons to both options. We've outlined the differences between the two, so you can make a better-informed decision for your remodel.
Probably the most apparent difference between raised and Shaker style kitchen cabinets is their outward appearance. While Shaker style cabinets have a flat, recessed panel and an overt outer frame, raised cabinets having a central panel that lies above the outer frame giving them a three-dimensional look.
Also, the outer frame is usually grooved, beveled or beaded creating an intricate decorative effect. The aim is to make it look as if the raised cabinet door or drawer face has been carved from a single plank. In contrast, Shaker style cabinets display a far more spartan design with very little in the way of ornamental flourishes.
Another difference between the two choices is that raised cabinets are generally difficult to find in frameless construction while Shaker cabinets are available in frameless and framed construction options, the latter of which pairs equally well with the inset style, and full or partial overlays.
Also, bear in mind that raised kitchen cabinets can employ molding to fill the gap between the top of a wall cabinet and the ceiling. Due to their minimalist design, Shaker kitchen cabinets don't pair well with molding, so you may want to install taller wall cabinets or face the prospect of the extra work involved in wiping away the dust and grime that is prone to collect in the space between the exposed top of the cabinet and the ceiling.
In short, raised cabinets are associated with traditional kitchen designs while Shaker style cabinets lend themselves to contemporary, modern, transitional, and rustic designs thanks to their versatility. And bonus, Shaker style cabinets are often less expensive than raised cabinets.
Why Shaker Style Kitchen Cabinets is a Top Choice: Pros and Cons
Pros of Shaker Style Cabinets
Timeless Appeal
The sleek, uncluttered look of Shaker kitchen cabinets ensures they transcend fickle design trends making them a sound foundation for your kitchen remodel. Besides that, there is nothing like a fresh stain or coat of paint, change in color or hardware upgrade to keep your Shaker doors and drawers looking good as new.
Room To Express Yourself
While the Shakers may have frowned on embellishments, today's interpretation of this timeless style makes allowance for the personalization of your kitchen cabinets. These can take the form of beveled or beaded edges and more ornate shaker cabinet hardware. Your design sensibility can also be expressed in your choice of flooring, toe kicks, countertops, backsplashes, and appliances. Finally, Shaker style cabinets lend themselves to a range of finishes depending on your intended look.
Low Maintenance
Anyone with a fast-paced lifestyle will appreciate the fact that Shaker kitchen cabinets are easy to clean. This is because the squared edges don't tend to trap as much debris and grease residue as the many ridges typical of raised cabinets. If you have young kids, consider installing Shaker kitchen doors and drawers made from wood laminate. Beyond their offering excellent value for money, they are robust, and a quick wipe down is all that's needed to keep them looking pristine. Plus, they don't require polishing, painting, or re-staining.
A Consistent Favorite
Their affordability, enduring utilitarian appeal, the scope for personalization and compatibility with various design concepts from country to ultra-modern make Shaker style cabinets a solid remodel investment and ensure they will add value not just to your kitchen but your home as a whole.
Cons of Shaker Style Cabinets
Cleaning Could be Hard
As compared to slab door cabinets, which have a flat front surface, Shaker style cabinets tend to gather dust or food particles in the corners, grooves, and crevices of the center panel, which might make it harder for some to clean and maintain in the long run. In general, it's not a big deal since nearly every kitchen cabinet will require some degree of upkeep anyway.
Too Classic for a Modern Kitchen
Well, this may not find a lot of takers but Shaker style cabinets might be a little too classic or traditional for some who want to set up a modern kitchen. Not that Shaker cabinets don't belong to a modern kitchen but there are many who believe slab door kitchen cabinets are more suitable for the current era.
Affect Potential Buyers
This actually holds true for any kitchen cabinets. When you choose a do a particular kind of kitchen remodeling, the taste affects the selling price of your house since the potential buyers may have a different kitchen style preferences altogether. By and large, Shaker style kitchen cabinets lend a classic appeal to your kitchen space, which may not go down well with potential buyers who prefer a more modern style kitchen for their home. That said, it all depends on the way you customize your kitchen cabinets and the kitchen space as a whole.
Why White Shaker Kitchen Cabinets are a Great Choice
Kitchen trends are transient. If you're planning to invest in kitchen cabinets that can last a very long time, choose white Shaker kitchen cabinets. But why do we recommend white cabinets, you ask?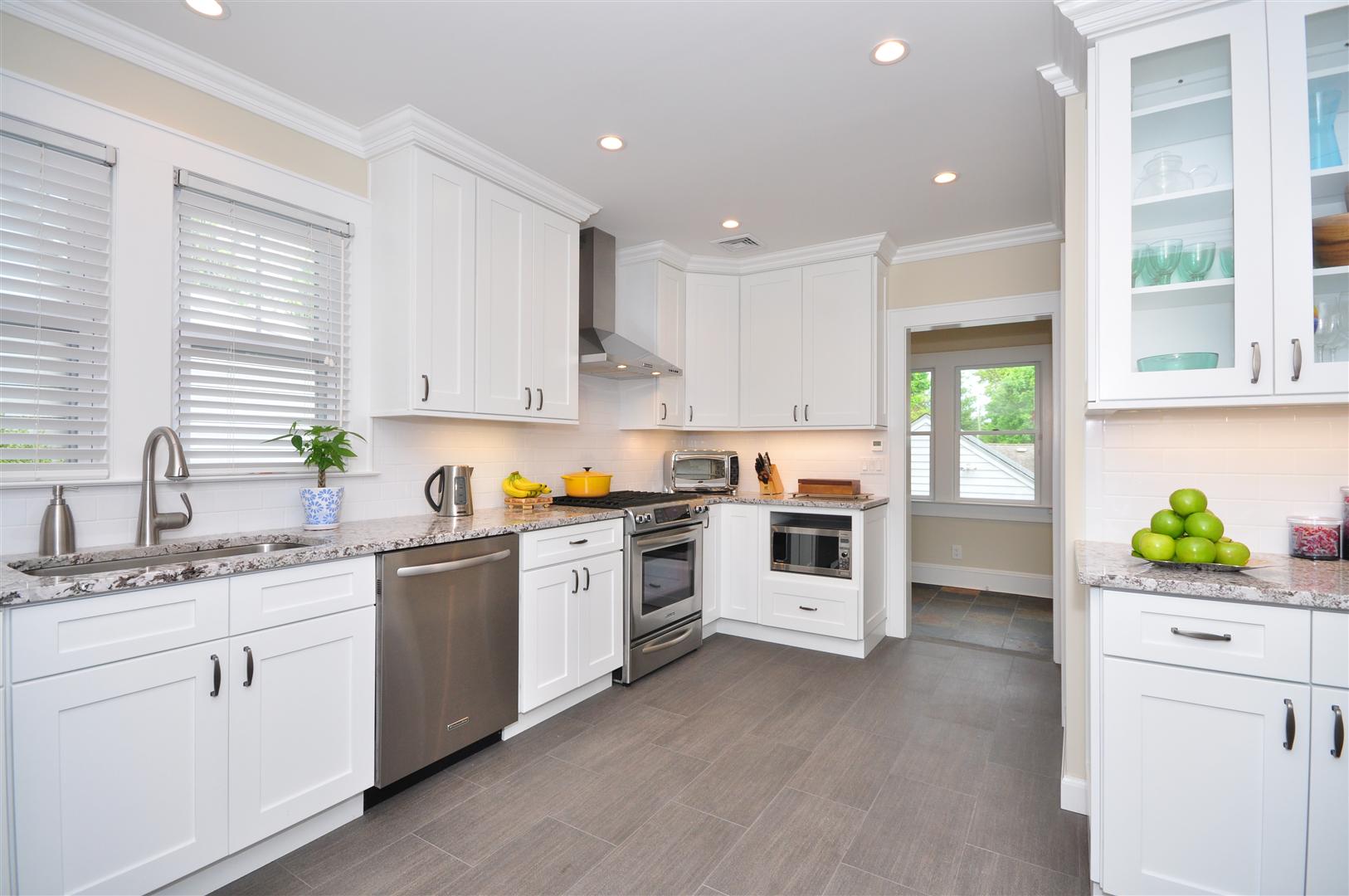 Well, there is a slew of benefits to justify your investment actually, like:
Trend-Proof: Kitchen trends are short-living and they constantly evolve. You need to choose a style (e.g Shaker) and color (e.g white) that transcend the future trends and stand tall. Both shaker style cabinets and white color are popular, trendy and accommodating to any future changes you might opt for.
ROI-friendly: If you're planning to resell your house in the future, you want to make sure the kitchen stays attractive to your potential buyers. According to the National Kitchen and Bath Association's annual survey, white tops the list of most popular kitchen colors. Therefore, with white Shaker kitchen cabinets, you're more likely to get prospects than not. Higher demand for your house means greater returns on your kitchen remodeling.
Feel-Good Factor: For every homeowner, the main objective of kitchen renovation is to infuse positive vibes and boost the functionality of their current kitchen. Needless to say, color plays a crucial role in creating the right feel in kitchen remodeling. According to color therapists, white color lends a positive vibe as it represents purity, happiness and innocence rolled into one. Plus, the brightens the kitchen space by reflecting the available sources of light, exuding a feel-good factor. This is why white Shaker kitchen cabinets are a great choice for many homeowners.
Finishing on a Good Note
Your selected finish can have a significant impact on the outcome of your kitchen makeover. You might opt for the natural stain finish favored by the Shakers. The beauty of a natural stain finish is that it highlights the intricate grain of whatever hardwood is used to make your cabinets so long as the stain is not too dark.
A variation on this theme is the distressed – or burnished – stain finish which works to give the Shaker cabinet doors and drawers an aged appearance.
On the other hand, a painted finish works to give your kitchen a crisp, cool feel. Again, your choice of color is wide open. While off-white and neutral colors are the most common choice, nothing is stopping you from going with bright, bold shades. One drawback to the painted finish is it may be subject to hairline cracks as the wood expands and contracts over time.
Good news for the budget-conscious consumer is that the extensive choice of wood laminate substitutes makes it possible to achieve an authentic Shaker look without breaking the bank.
Additional Useful Resources: