Pros and Cons of White Kitchen Cabinets (Updated)
What explains the growing popularity of all white kitchens and white kitchen cabinets?
Well, there are many benefits that make the white color a preferred choice for homeowners seeking kitchen renovation. White cabinets, coupled with countertops and backsplashes of the same color, offer an airy, bright, crisp and authentic feel to your kitchen, adding zing to the whole ambiance.
This is especially important homeowners who spend a substantial amount of their time in kitchens. Being the central traffic hub of your entire house, you want the kitchen to feel spacious and welcoming to guests and family members.
However, the pristine white kitchen decor also makes maintenance a daunting prospect for many. Before you invest your hard-earned money into a white kitchen renovation, learn the pros and cons associated with it.
Let us walk you through the advantages and drawbacks of white kitchens in general and white kitchen cabinets in particular.
The Pros: From offering a neutral foundation to surviving kitchen cabinet trends to being friendly with kitchen hardware accessories, white kitchen cabinets have a slew of advantages upfront.
White Kitchen Cabinets Offer a Neutral Foundation
Foundation neutrals play a key role in any design and decor, and kitchen remodeling is no exception.
While choosing the right neutral can be tricky sometimes, you can be safe and sure to go with a white foundation neutral for your remodeling project. White cabinets infuse neutrality and simplicity into your space, allowing other elements and accessories (especially in bold colors) to pop.
Not only does your kitchen area appears large but it accommodates a variety of styles and patterns as well.
Since kitchen remodeling is an expensive and time-consuming proposition. With white kitchen cabinets, it will be easy to update your kitchen in the future as well.
White Kitchen Cabinets are an Everlasting Trend
When it comes to design, white remains consistent and impervious to short-lived kitchen remodeling trends.
Moreover, being a foundation neutral, white kitchen cabinets work with a variety of kitchen styles such as modern, traditional and transitional.
White Kitchen Cabinets are Versatile and Easy to Accessorize
White kitchen cabinets are versatile in that they are easy to update and accessorize.
For example, with white Shaker style cabinets, you could add these accessories to transform your kitchen decor.
You can offer your white kitchen a whole new look and boost its appeal simply by changing its handles and knobs. Therefore, white cabinets don't really need a substantial improvement for a makeover.
Moreover, being a foundation neutral, they allow other elements to stand out in the color palette.
White Kitchen Cabinets Leverage Natural Lighting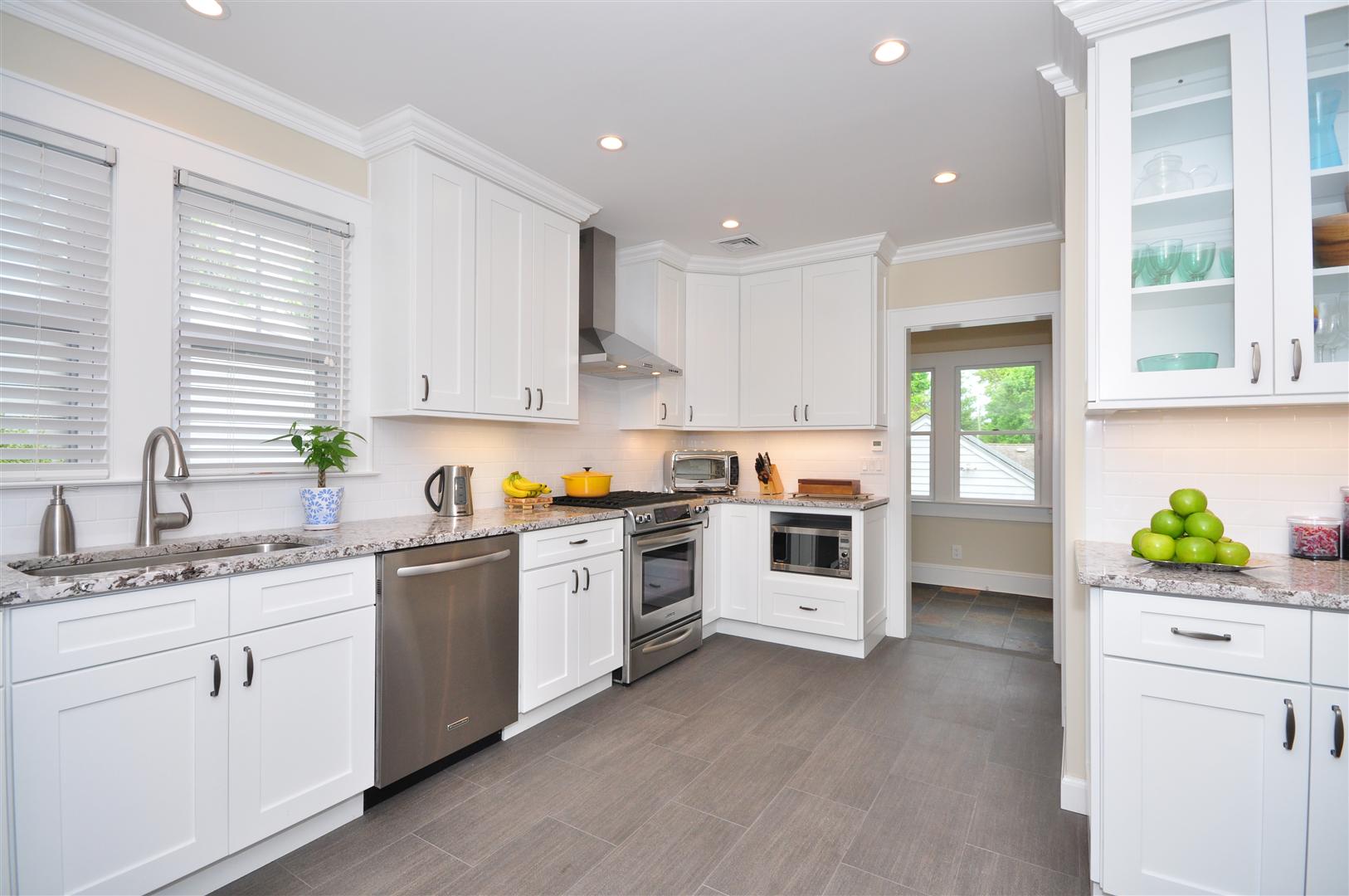 Nothing makes a kitchen feel airy, large and spacious quite like white kitchen cabinets. In general, white cabinets reflect light, especially when it comes from a natural source.
Therefore, if you have a relatively small kitchen with a natural source of lighting, white kitchen cabinets can help brighten it, offering an illusion of a larger space.
Moreover, if the white cabinets have a glossy finish, they are more likely to bound the light around.
The Cons: Despite the aforementioned advantages, white kitchen cabinets also suffer from some shortcomings. Fortunately, there are ways to get around them easily.
White Kitchen Cabinets May Seem too Clinical
It's important to know how to work with a white cabinet — a wrong approach means your kitchen can look cold, bland and clinical, evoking a boring mood.
That's where professional help can help. The #1 rule of working with a white cabinet is to adding the right texture. For example, you can add contrasting backsplashes or countertops with white kitchen cabinets.
Alternatively, you can opt for two toned kitchen cabinets, i.e, darker color for wall cabinets and lighter colors for base cabinets or vice versa.
White Kitchen Cabinets are Harder to Maintain
White kitchen cabinets look great; however, they need more attention than other cabinets when it comes to maintenance. While white kitchen cabinets aren't inherently dirtier than other cabinets, it's easier to spot splashes, spills, and smudges on a white surface. That's, however, not the case with patterned or darker cabinets.
This essentially means you should know how to look after your white kitchen cabinets.
White Cabinets are Prone to Direct Sunlight
Taking care of your white kitchen cabinets are not simply limited to cleaning the dirt or spills. White cabinets are prone to direct sunlight as they discolor and age pretty quickly if they're exposed to sunlight for a longer period of time. Likewise, the scratches and worn corners are also more visible to eyes. All of this, however, can be avoided if you know how to keep white kitchen cabinets clean.
So, Should You Invest in White Kitchen Cabinets?
Apart from the extra maintenance, white kitchen cabinets need no special treatment to remain durable. Like any other cabinet color, be sure to invest high-quality white kitchen cabinets. While cheaper cabinets are easy on the wallet, they age less gracefully. Moreover, if hire professional help for kitchen installation, white cabinets can last just as long as cabinets of any other colors.