8 Ways to Make Your Single Wall Kitchen Ultra Cool and Sociable
A single wall kitchen layout is a smart solution for small kitchens. With a small footprint, it blends with your living room allowing you ample space for hassle-free cooking, efficient workflow and seamless traffic movement.
What's more, with fewer cabinets, the cost of a single wall cabinet effectively goes down, making it a lucrative proposition low-budget kitchen remodel projects.
However, if the standard single kitchen design layout doesn't work for you, here are some ideas to make it even more efficient and personalized.
Make the Layout Traffic-friendly

If you think the small real estate of single-wall kitchens could be a huge disadvantage, think again!
A single wall kitchen is designed for just one person, meaning you have plenty of space for traffic movement, which truly complements the idea of an open kitchen layout.
Therefore, you need to use the open area to make the most of the available space for others, while incorporating the needs and lifestyle of the user.
Plan an Efficient Design
The standard length of a single-wall kitchen is about 8 feet, which requires careful planning and efficient design. Ideally, you should have a fridge on the far end of the kitchen run while a sink installed next to it. Make sure there is counter space on either side of the sink to help you prep the meal.
Likewise, you should have ample space underneath for storage and dishwasher as well. The range should be located at the far end of the kitchen run with ample counter space on either side for safety and cooking.
Stick with a Standard Run of Cabinets
While the efficient design is key to a single-wall kitchen, you should stick to a standard run of cabinets. Apart from the base cabinets and wall cabinets, the standard run should also include a tall cabinet at one or both ends. Be sure your cabinet run also accommodates an exhaust fan as well.
Go for Mixed Shelving
Speaking of efficient design, you can incorporate open shelving in your single-wall kitchen. However, instead of open shelving for an entire upper cabinet run, you could opt for mixed shelving, meaning shelving either on the left or the right of your kitchen. More often than not, this shelving is used for decorative purpose rather than practical use.
Install Bridge Upper Cabinets
If there's enough space, consider installing an additional run of cabinets along your wall cabinets. Not only does this offer extra storage to tuck away those seasonally used appliances, but they also create a decorative sunken effect. To achieve the decorative effect, make sure the additional run of cabinets is at least twice as deeper than the primary wall cabinet run. Additionally, you want to invest in a footstool to access the storage space in your bridged cabinets.
Incorporate Storage into Living Room
Storage is a challenge whether you have a small or large kitchen. However, when it comes to single wall kitchen, it's a huge trade-off — should you sacrifice storage for the open area? With less cabinet footprint, you get less storage area.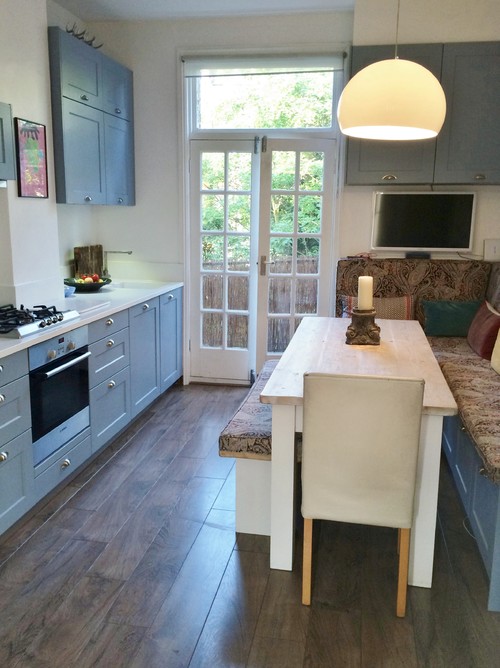 Fortunately, new home remodelers have found a smart alternative to conventional kitchen storage. Since most single wall kitchens are designed to seamlessly integrate into the adjacent living room, the surrounding elements such as the seating area should have a similar finish for a fluid and continuous look.
This effectively opens up the opportunities for you to incorporate additional storage into unconventional spaces such as under the seating area and even wall cabinets above the seating area.
Invest in Integrated Appliances
Being an open kitchen layout, a single wall kitchen suffers from some disadvantages. With limited real estate, accommodating large appliances can be a challenge at first. However, luckily, there are several modern kitchen cabinets specifically designed for small kitchens — integrated compact dishwashers, compact ovens, compact microwave ovens, you name it.
Apart from blending into your single wall kitchen area, they also make less noise — a critical aspect of an open kitchen area. Sure, these appliances drive up your kitchen remodeling budget but it's a smart long-term investment.
Add an Island to Your Single Wall Kitchen
In most cases, the single wall kitchen is built into the living room which typical has ample space for an island.
An island is a great and smart addition to a small kitchen if you consider the extra counter space you need to optimize your workflow. Plus, an island is a perfect place for the family to huddle around and share their life. On top of it, it actually makes a small kitchen area feel larger. However, if your kitchen is too small for an island, you could add a dining table that doubles up as an island.