6 Shaker Cabinet Hardware Accessories that Transform Your Kitchen
Cabinet hardware is like jewelry of a kitchen — it changes the look and feel of your cabinetry depending on the kind of cabinet it's paired with. Similarly, Shaker style cabinets are versatile enough to accommodate a range of kitchen styles.
In this guide, we'll discuss the different types of Shaker cabinet hardware accessories, especially door knobs and pulls that can go with Shaker kitchen cabinets to help you achieve the desired look in your kitchen remodel project.
1. Shaker Cabinet Hardware: Steel Knobs and Bin Pulls
Do you want to create a vintage style kitchen with your Shaker cabinets? Then you need to accessorize your cabinet with the appropriate hardware. For example, you can use steel knobs on your cabinet doors and bin pulls on the drawers to add a retro fair. If the drawers are wider than 30 inches, then you can install two bin pulls.
Steel knobs and bin pulls are the best Shaker cabinet hardware accessories for inset kitchen cabinetry with exposed hinges as well. You can use industrial-style lighting and white marble countertops for a great ambiance.
2. Shaker Cabinet Hardware: Vintage Glass or Ceramic Knobs
If you want to create historical feel around your kitchen space, you can't go wrong with Shaker inset cabinets with a stained finish. To add the Victorian flair, install vintage glass (aka Depression Era glass) knobs on your doors as well drawers, which offers an interesting contrast for a historical feel.
The hexagonal glass knobs can be transparent, opaque and clear, often with a nickel-plated bolt or face screw. The glass knobs perfectly complement hutch cabinets, stained wood cabinets, butler's pantry cabinets.
3. Shaker Cabinet Hardware: Vintage Pulls With Exposed Screws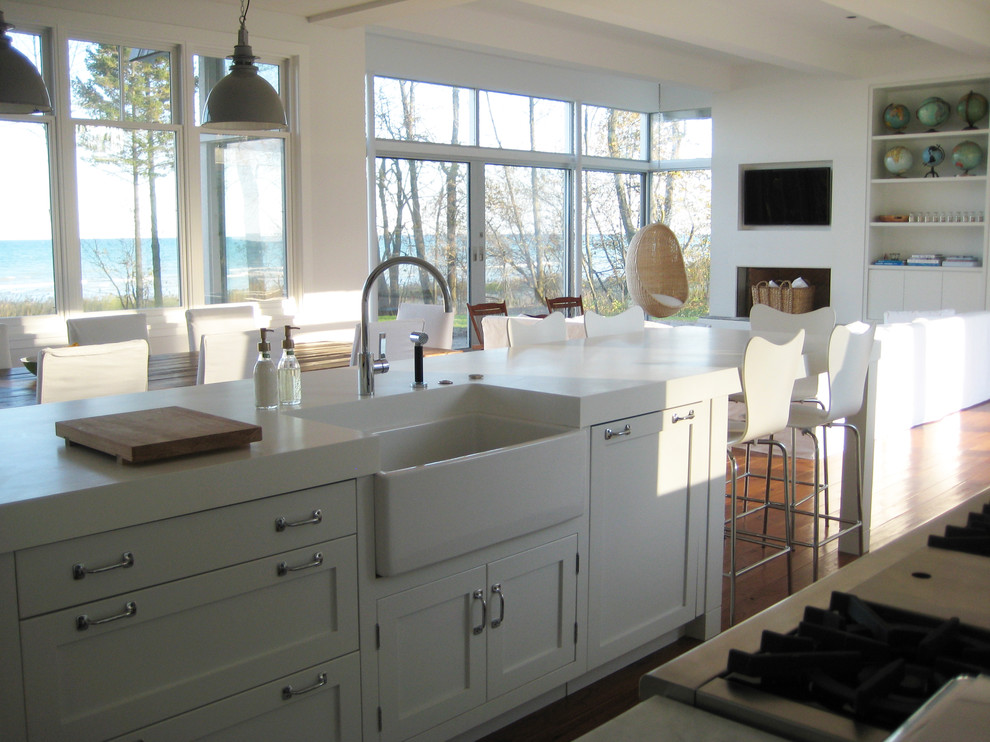 Vintage pulls (with exposed screws) are some of the most popular choices when it comes to Shaker cabinet hardware accessories. They come in different forms, finishes, and sizes such as nickel, antique brass, and oil-rubbed bronze.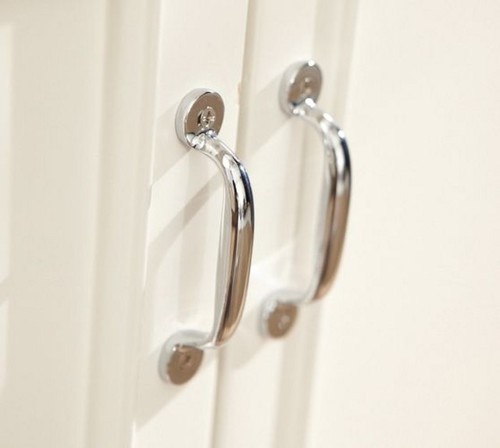 If you're going for white Shaker cabinets (such as our snow white or vintage white inset Shaker cabinets), then install the oil-rubbed bronze variety. Likewise, if you're installing darker cabinets (such as our light gray or dark gray Shaker cabinets), the antique brass vintage pulls are the perfect pair.
When installed on Shaker inset cabinets, the vintage pulls infuse an industrial feel, especially when the cabinets are accompanied by stainless steel countertops, farm sinks, and industrial-style lighting.
4. Shaker Cabinet Hardware: Tubular Bar Pulls
If you're planning to modernize your traditional-style kitchen, the combination of inset Shaker cabinets and tubular bar pulls work wonders. Also known as barrel pulls, the tubular bar pulls are usually found in slab door cabinets; however, when you use long-handled bar pulls on Shaker cabinets, they will dramatically change the profile of your cabinets. While the tubular bar pulls look great just about any Shaker cabinets, they go especially well with ebony or espresso stained Shaker cabinets.
To give your traditional kitchen a more modern feel, consider upgrading other kitchen hardware units such as modern pendant lighting and/or oversize and rectangular tiles.
5. Shaker Cabinet Hardware: Flat Bar Pulls
With their accentuated length and polished nickel finish, flat bar pulls are some of the best ways to accessorize Shaker cabinets to infuse a contemporary aura in any kitchen space.
Available in both hand-forged white bronze and sleek stainless steel, the flat bar pulls can run vertically or horizontally to transform white or dark Shaker cabinets, offering a kitchen space a modern edge.
6. Shaker Cabinet Hardware: Accented Wire Pulls
If you want to accessorize your Shaker cabinets for a dramatic or decorative effect, accented wire pulls are a great choice.
Accented wire pulls compliment a wide range of traditional decorative elements such as crown molding, decorative hood and plate racks.
By installing the right knobs and pulls on Shaker kitchen cabinets, you can infuse a historical flair or modernize your kitchen. Go on and leverage the flexibility of your Shaker cabinets!
Shaker Cabinet Hardware: Some Inspiring Examples on Pinterest
Whether you're looking for the best hardware for Shaker cabinets or inspiring ideas for white Shaker kitchen cabinet hardware, the following examples can help you find your Shaker style hardware.
Note: Click or tap on the images to enlarge them.