Buying RTA Bathroom Cabinets? Don't Ignore These 5 Tips
Whether you're seasoned remodeler or rookie, choosing bathroom cabinets for your next remodel can be more or less daunting.
Bathroom cabinets play multiple roles, starting from concealing the plumbing to creating primary storage space to lending an aesthetic twist to your bathroom.
Without a doubt, you need to factor in some important factors before splurging on a brand-new bathroom vanity. This guide is designed to help you negotiate the challenges of choosing the right RTA bathroom cabinets for your remodel.
Cabinet Quality Grades
There are different cabinet quality grades when it comes to bathroom cabinetry such as RTA, stock, semi-custom, and custom. While each has their respective strengths and weaknesses, RTA bathroom cabinets are arguably the cheapest cabinetry grade. However, in some cases, ready to assemble cabinets can mean sacrificing the quality of materials and construction quality. It's not always the case though; at Maplevilles, we have a wide range of RTA bathroom cabinets that boast great materials and construction quality.
The greatest advantage of buying RTA bathroom cabinets is the quick shipping time which can be anywhere from same day delivery to two business days. While stock, semi-custom, and custom bathroom vanities are also great alternatives, they not only inflate the costs of remodeling but can mean a higher lead-time. If you're someone who is fairly familiar with assembling bathroom cabinets, ready to assemble bathroom cabinets are a great way to save big bucks on your bathroom remodeling.
Cabinet Drawers
RTA bathroom vanities are only as good as the construction quality of their drawers. In fact, the first thing to inspect in a bathroom cabinet is its drawers, regardless of which grade you choose. Here are a few quick pointers on how to inspect the quality of bathroom drawers.
#1 – Construction Quality: Make sure the drawer panels at least ⅜" to ½" inch, especially at the bottom.
#2 – Joinery: Dovetail joinery is the benchmark of quality of drawer box construction. Anything less than that (doweled joinery) indicates poor durability.
#3 – Smoothness: The drawers should run on full-extension undermount glides for a smooth and quiet operation. They should not sag when they are fully extended.
Cabinet Materials and Finishes
While construction quality is a top priority for you while investing in RTA bathroom cabinets, don't ignore the cabinet materials and finishes. Unlike kitchen cabinets, bathroom vanities have a high exposure to heat, water, and excessive moisture, all of which affect the longevity of your vanities significantly.
In terms of materials, bathroom cabinets are typically constructed from plywood, particleboard or MDF while the door and drawer faces use solid wood. With a higher price point, you get plenty of material and finish options to choose from.
Here's a caveat though: A few manufacturers tend to gloss over the poor quality materials with veneers which are likely to peel when the vanities receive considerable wear and tear over time. You want to avoid those bathroom cabinets.
Cabinet Doors, Accessories and Hardware
After you have made sure that the RTA bathroom cabinets have decent construction quality, it's time to consider the door style and hardware accessories. When it comes to the aesthetics of bathroom vanities, the door styles and decorative elements such as door handles and knobs rule the roost.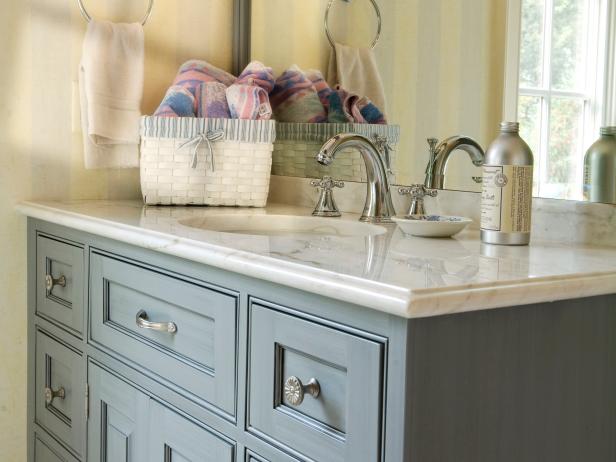 There are so many options available for you and it all boils down to your tastes and preferences. For example, Shaker style inset doors are pretty popular these days while many still prefer full overlay raised door panels. Likewise, one can add bathroom accessories such as door hinges, posts, pilasters and wainscoting for further customization.
But don't just focus on the look — it's important to consider the ease of use as well.
Bathroom Size, Storage and Floor Space
While materials, construction quality, and styles are the key, you can't undermine the role of form factor and storage specifications of RTA bathroom cabinets. The first, and the most obvious, consideration is the size of your bathroom — you want to save ample floor space while adding a bathroom vanity.
Moreover, consider the actual number of sinks, storage compartments and drawers you need. After all, you needn't stuff everything into your bathroom vanity. Plus, there are alternative bathroom storage hacks you can explore if you are short on floor space for a large bathroom vanity. Many homeowners prefer freestanding vanities for small bathrooms (or powder rooms) which allow them a larger floor space.
Remember that the standard dimensions of RTA bathroom cabinets – they are generally 32" tall and 18"-21" deep which means some kitchen cabinets can double up as bathroom vanities.
Final Thoughts
Choosing the right RTA bathroom cabinets is the stepping stone to a successful bathroom remodel. You want to make sure you choose the best available vanities within your budget without making too many sacrifices in terms of style and functionality. At Maplevilles, we can help you choose the right bathroom vanities for your remodeling. Get in touch with us via contact us form or give us a call on +1 (310) 212-3321