Open Shelving vs Wall Cabinets: Which One is Right for Your Kitchen?
The open shelving is in vogue these days — from Pinterest to Houzz, it is being talked about all over the place. Who doesn't like the idea of having their prized dinnerware stacked in an aesthetically pleasing manner! However, beyond the compelling kitchen decor lie some practical drawbacks of a regular kitchen space.
The traditional choice of going with standard wall cabinets has its advantages as well, which begs the question —  should you go for open shelvings or wall cabinets?
In this guide, let's talk about the respective benefits of open shelving vs wall cabinets.
Why Wall Cabinets are Right for Your Kitchen Remodel
Wall Cabinets Help You Hide Unwanted Items
Unlike those visually compelling images of kitchen remodeling projects, we see in Pinterest, in real life, not many items in our kitchen are aesthetically pleasing. For example, the hand-me-down dinnerware may not look that great alongside the regular plates and bowls. Likewise, there are many food items that you don't want to store in glass jars as they don't look great. For all those reasons and more, you need wall cabinets in your kitchen to store all your unsightly necessities.
Wall Cabinets Keep Your Kitchen Clutter-Free
While those images of open shelvings on Apartment Therapy may look attractive to you, ensuring such orderly patterns in your kitchen on a daily basis can be a difficult chore. More often than not, a regular kitchen looks cluttered. Imagine returning plates to the open shelves and then organizing them in a pleasing geometric pattern every single time — it's hard, isn't it? Now picture how easy it would be to put them back inside the wall cabinets. Quite a sensible solution, eh?
Wall Cabinets Mean Easier Kitchen Cleaning
Not only do open shelvings make it difficult to keep your items tidy, but they also make it hard for you to keep them clean. The open shelvings as well as the dishes accumulate dust over time and require a stricter cleaning routine. If you have open windows, it can get even worse.
Moreover, open shelves also mean your dinnerware and cookware are prone to undesirable grease, juice and food particles during the cooking or dishwashing.
On the contrary, wall cabinets can keep your dishes away from dust and require cleaning much less frequently.
Wall Cabinets Ensure Efficient Storage
Storage is a crucial component of every kitchen. If you're unable to manage it properly, your kitchen can suffer from poor storage space and violate kitchen design best practices. This essentially means you may have to make more trips around the kitchen for prepping the meal. You don't want to let the utility of your kitchen suffer at the altar of appearance. Wall cabinets, on the other hand, solve both storage challenges and make your kitchen look tidy and organized.
Wall Cabinets are Safe Display Options
Displaying dinnerware and stemware is a great way to amplify the visual appeal of your kitchen. However, it doesn't have to compromise safety and cleaning. If you have pets, open shelvings are a disaster waiting to happen. That's why wall cabinets are a better option than open shelvings.
Why Open Shelving is Right for Your Kitchen Remodel
Open Shelving Offer More Storage Options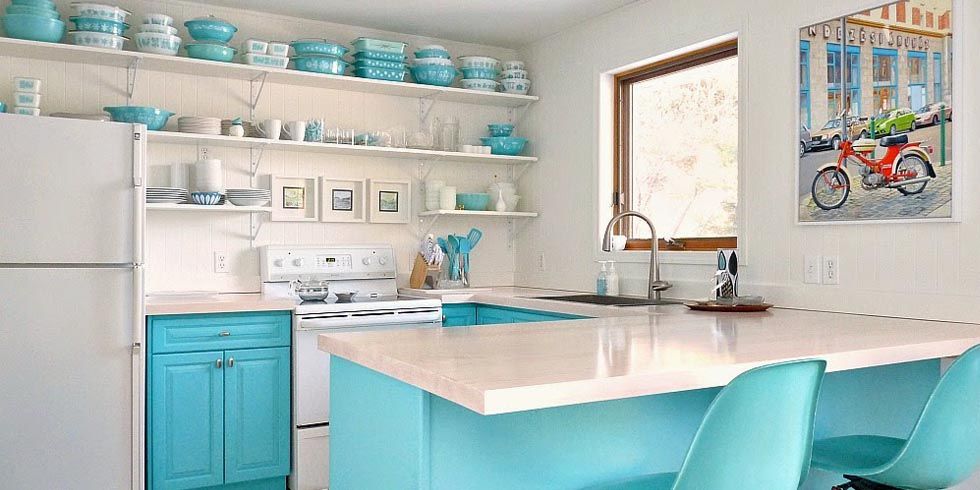 For many homeowners, wall cabinets mean limited storage options. When wall cabinets aren't customized to fit your personal storage needs, it can hard for you to reach around them. Open shelves, on the contrary, offer several storage options. Plus, they make your kitchen look relaxed and modern.
Open Shelving Design is More Inviting
Open shelves offer a unique advantage over wall cabinets when it comes to making your kitchen more fun, relaxed and inviting to your guests. With the things in the open shelves being on plain view, they can find what they want easily and help themselves. This is particularly useful when you're throwing a party or inviting some friends over.
Open Shelving Means a Brighter Kitchen
To those with a small kitchen, natural light is a premium. While wall cabinets can appear overwhelming, making your relatively smaller kitchen space feel dark and closed in, open shelvings allow natural lighting from windows, helping your kitchen feel larger and brighter than usual.
Open Shelving Design is Budget-friendly
The biggest advantage of open shelves (over wall cabinets) is the cost. Compared to the expensive wall cabinets option, open shelves are a cheaper option and they don't require much time for installation either. Plus, they make a huge style statement in your kitchen.
Open Shelving Help Showcase Your Dishware
Instead of letting your attractive dinnerware hide behind the doors of your wall cabinets, open shelves allow you to put your stylish dishware on display.
Open Shelving vs Upper Cabinets: Infographics