8 Embarrassing Kitchen Remodeling Mistakes That Hurt Your Home's Value
Modern kitchens aren't just a place to cook your dinner or serve food — indeed, they're much more. No wonder then why many homeowners pay so much importance to their kitchen remodeling plans. For a great kitchen renovation, you need to plan and budget properly before shopping for kitchen cabinets and appliances. Theoretically, this sounds pretty straightforward. However, in reality, it's much more complex, and you're likely to run into trouble unless you plan your kitchen remodeling well enough.
According to The Guardian, Citizen Advice received a whopping 4,947 complaints about fitted kitchens in just twelve months. Another consumer organization, Which? found 40% of its surveyed members had experienced problems with a kitchen installation. According to the report, the common kitchen problems included kitchen door/hinge, cabinet drawer, wall cabinet, and base cabinet among others.
Regardless of your kitchen design style, the layout and organization of your kitchen play a huge role. Whether you're doing a modern or country kitchen, your plan should help you get the most out of your existing layout and space. In fact, this will help you choose the right cabinets and appliances for your kitchen remodeling plan.
If you don't want to regret your kitchen, here are some common kitchen layout mistakes to avoid:
Obstructing the Kitchen Triangle
One of the common kitchen layout mistakes is the obstructing the work triangle in a kitchen.
What is the Work Triangle in a Kitchen Design?
Well, according to kitchen remodeling specialists, kitchen work triangle refers to the area of activity located among three important kitchen points such as kitchen sink, stovetop, and refrigerator. The kitchen work triangle thumb rule says these three elements should be in "ideal proximity" for an efficient, aesthetically pleasing and productive kitchen layout.
However, the work triangle is badly planned and organized in many kitchens, thanks to the poor location of the sink. This typically happens when a kitchen sink is installed to accommodate the existing plumbing.
How to Avoid This Kitchen Design Mistake
Whether you have an L-shaped, galley, U-shaped or island kitchen layout, make sure that the collective distance in a work triangle isn't less than ten feet or more than twenty-five feet. If it's too small, you will have a hard time working efficiently and people in the kitchen run the risk of tripping over each other. Likewise, if it's too large, you will end up spending too much time in food preparation which could tire you out.
Wasting Kitchen Storage Space
Most modern kitchens struggle with the idea of optimizing their space to achieve an efficient kitchen layout. However, without any planning and forethought, this is easier said than done. Storing your kitchen appliances, especially the ones you use seasonally, can be hard since many appliances are oddly designed and won't fit inside a regular kitchen cabinet.
How to Avoid This Kitchen Design Mistake
If you're remodeling your kitchen cabinets, here are a few tips to consider:
#1 – Install extra-long wall cabinets. This will help you create more storage space which can accommodate large kitchen appliances.
#2 – Use molding in your wall cabinets in order to create extra storage space.
#3 – Install cabinets over refrigerator to store seasonal appliances. This space is one of the most under-utilized in kitchens.
#4 – Install open shelves at the back of your base cabinets to create extra storage space.
Scanty Counter Space
Whether you have a small or large kitchen, you always need adequate counter space to work efficiently. Kitchens that are poorly designed often lack ample horizontal space, which makes it difficult for you to storage appliances for easy reach.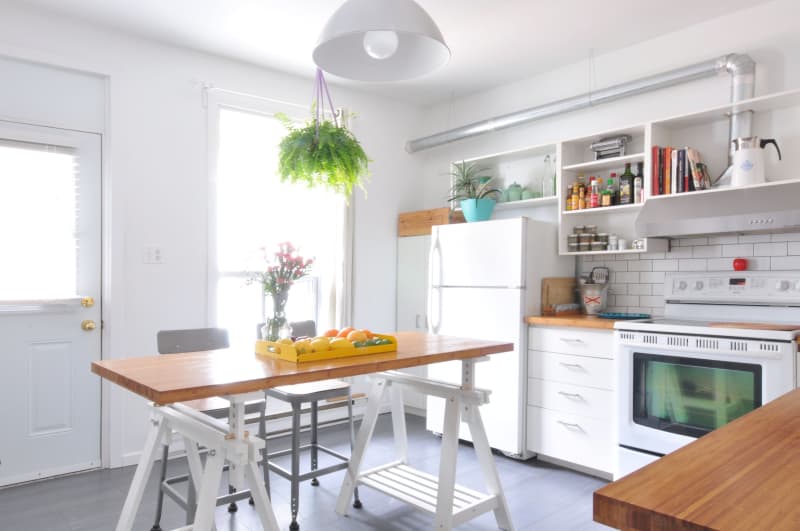 How to Avoid This Kitchen Design Mistake
Consider the appliances you're going to use on a regular basis. If your kitchen appliances need horizontal space, explore the opportunity to create ample counter space. For example, you can either add a breakfast bar or island to your L-shaped kitchen. Install wall cabinets or lazy Susan to tuck away appliances or kitchen tools and create more room on your countertop.
Poor Lighting
In general, your kitchen space should be adequately illuminated to create a positive atmosphere and help you perform common kitchen tasks. However, in a modern kitchen, the role of lighting is more aesthetic. Many modern kitchens require specific lighting (task lighting and accent lighting) to highlight their aesthetic appearance. Much like the kitchen cabinet, poor choice of lighting can also ruin a kitchen.
How to Avoid This Kitchen Design Mistake
#1 – Evaluate the main working areas and install specific lighting to illuminate those areas.
# 2 – Use pendant lighting above your kitchen sinks or above islands for illumination and aesthetic enhancement.
#3- Use under-cabinet lighting to offer ample illumination to your counter space.
Underestimating Backsplash
Strangely, many homeowners tend to think backsplashes are dispensable items in their kitchen remodeling priority list. However, in reality, they are as important as the kitchen sink itself. Consider the dirt and grease you will need to clean off your wall while running the risking of damaging the appearance of your kitchen wall. With tile, metal or plastic backsplashes,  it's much easier to maintain a clean kitchen.
Little Ventilation
Poor ventilation is one of the reasons why many kitchen smell horrible. Just as proper illumination is key to positive kitchen vibes, a good ventilation system adds to the positivity in your kitchen. While investing in premium appliances and kitchen cabinets are a great idea, you should also consider investing in a good ventilation system. Apart from healthy indoor air, it also keeps your appliances in shape.
Picking the Wrong Kitchen Island
Earlier in this guide, we mentioned how installing a kitchen island is essential to creating a more horizontal workspace in your kitchen. However, installing a kitchen island can also spell troubles for you, especially when it's poorly located or doesn't belong in your limited kitchen space. According to kitchen designing specialists, islands should be at least 4 feet long and 2 feet deep.
However, it should installed in a kitchen that allows ample space around it for normal traffic flow. An island should never obstruct the work triangle in a kitchen. As a matter of fact, unless your kitchen is at least 12 feet long and 8 feet deep, you shouldn't even consider installing an island, to begin with.
Not Hiring Professionals
Kitchen remodeling is an expensive affair and many homeowners are willing to do it since it boosts the resale value of their property overall. That said, a badly designed kitchen layout can also affect your property rate negatively. Don't shy away from hiring a kitchen remodeling professional — they are well-equipped with the latest trends and the valuable knowledge you need to optimize your limited space and resources for an efficient kitchen. More importantly, you're less likely to commit any kitchen design mistakes when a professional is involved in your kitchen renovation project.