5 Things to Consider While Buying Inset Cabinets
When it comes to bath and kitchen remodeling, inset cabinets are extremely popular among homeowners.
The quality materials, structural sturdiness, superior craftsmanship, high-quality construction techniques and a wide range of finishes make inset cabinets a definitive choice for many. If you're planning to renovate your kitchen or bath without compromising with its quality or style, inset cabinets should be your number one choice.
Here's a quick guide on what one should consider while shopping for inset cabinets.
Inspect the Kitchen Carcass Construction Quality
The quality of inset cabinets depends largely on the fundamental construction quality of the cabinet carcasses or boxes. Inset cabinets employ premium hardwood and traditional construction techniques such as:
#1 – Bonding of panels using both screwed and glues
#2 – Storing joinery techniques like dovetail joints, tenon joints, and mortise
#3 – Face frames and door frames both made from solid hardwood for a strong foundation
Because of this fine craftsmanship, the traditional construction process is often time-consuming and adds to the cost of the inset cabinets. However, they last a lifetime when you take proper care of the inset cabinets. Prudent homeowners with no budget constraints tend to favor inset cabinets over other mediocre alternatives for this very reason.
Make Sure the Inset Doors are Flush
The unique feature of inset cabinets is that its doors sit flush with the cabinet facade. The cabinet doors on an inset cabinet are made from solid wood with MDF veneer along with a variety of finish options to choose from. When the doors are closed, they sit flush with the face of the cabinet, enhancing the minimalist appeal of the cabinet. Moreover, the addition of a knob or door handle lends a sophisticated touch to the unit as well.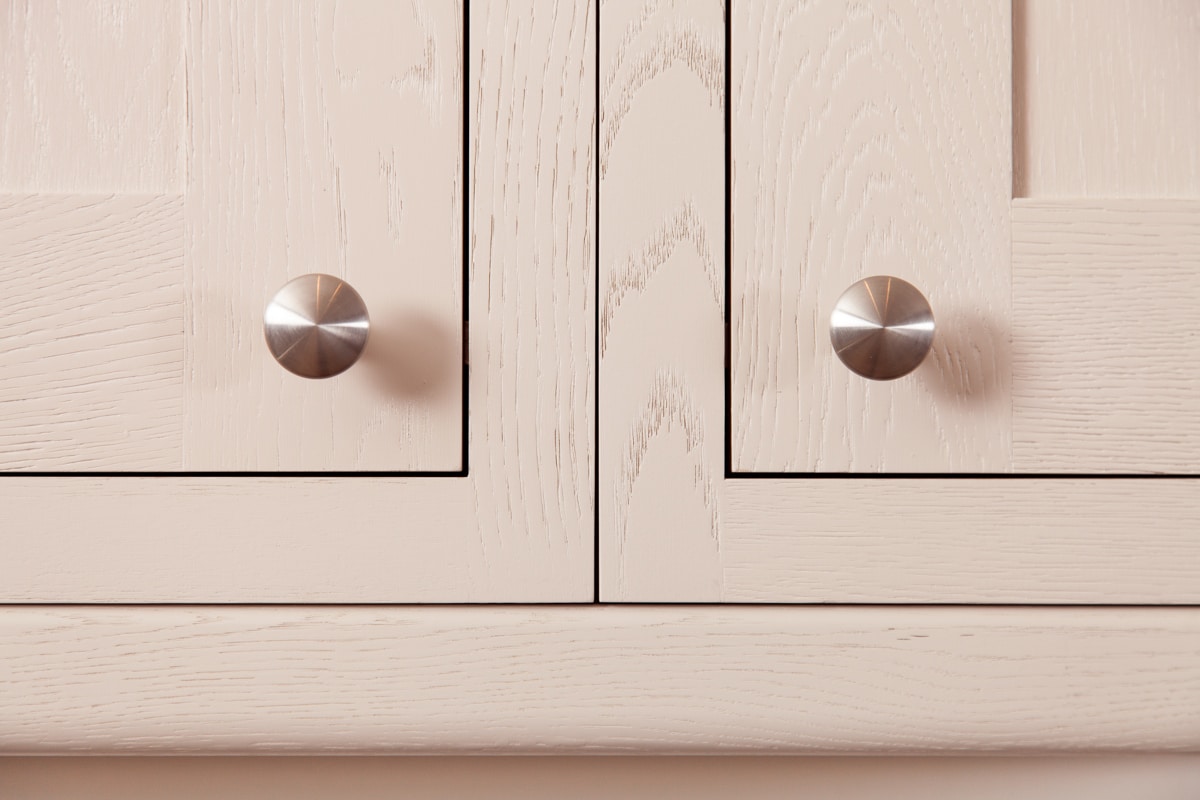 While shopping for inset cabinets, make sure the drawer and cabinet fronts use a high-quality joinery technique such as mortal, tenor or dovetail joints. As explained earlier, ordinary joinery techniques affect the longevity of your cabinets. Therefore, you should prefer cabinets that use sophisticated joinery techniques.
Check Door Hinges and Installation Technique
The inset doors are also known for their concealed door hinges and door installation techniques. The concealed hinges (AKA European hinges) are screwed into the cabinet box and the back of the door — a technique that keeps the hinges hidden from view when the doors are closed.
Moreover, the door hinges usually adjustable and soft-close which means they are flexible enough to future adjustments and help the doors open and shut without any noise whatsoever. Likewise, inset doors are set flush with the face frame which is already attached to the cabinet box. This offers a clean look to the unit.
Inset Kitchen Drawers and Soft-Close Glides
Drawers on inset cabinets are crafted from solid wood for long-lasting sturdiness. Dovetail joinery is the hallmark of high-quality craftsmanship, which also promises that the drawers are strong enough to last for years with adequate care.
On top of it, the drawers run on full-extension slides for smooth operation and sitting flush with the face frames, offering inset cabinets a great look. However, not all suppliers would offer all these features in their cabinets. As a homeowner who aspires for high-quality inset cabinets, always compare cabinets and their prices based on these features.
Inset Cabinet Finish Options
Finishing on your inset cabinets is a key factor in terms of their aesthetics and protection from elements. While high-quality wood materials are key to the making of study cabinets, the finish applies to them should protect them from heat and moistures.
If you're ordering customer inset cabinets, make sure the supplier first primes the cabinets in their factory and then applies hand-finishing on-site after the installation. This makes sure any potential scratches during shipping are taken care of properly.
However, if you're ordering RTA cabinets, which requires you to assemble the cabinets on your own, make sure the finishing has been done well enough before the product is ready for shipping. Some suppliers also offer options for varnishing and staining options as per your preferences.
Final Thoughts
Inset cabinets are sturdy enough to last a lifetime and elegant enough to transform an ordinary kitchen into a sophisticated family hub. Make sure you choose your cabinets considering the above features before investing in kitchen cabinetry.