Inset Cabinet Door Hinges: A Quick Guide on Self-Closing Hinges
Many homeowners ponder over key details while installing kitchen cabinets. From choosing the type of wood to selecting the door layout, they spend considerable time deciding the best kitchen cabinets for their kitchen renovation project. However, sometimes, they miss out on the tiny details that add immense value to their cabinets on a daily basis. Cabinet door hinges are some of those cabinet accessories that can potentially affect your overall experience in the kitchen. In this guide, we're going to explain the different types of cabinet door hinges and how to choose the right ones for your kitchen remodel project.
What is a Self Closing Hinge?
As a homeowner, you want to make sure your cabinet doors and drawers make very little to no noise. While ordinary hinges help in the standard operation of your doors, most manufacturers (including Maplevilles Cabinetry) now offer self-closing door hinges to ensure smooth operation and enhance the longevity of your cabinetry.
Self-closing hinges feature a unique mechanism to help cabinet doors close by themselves without making any noise in the process. With self-closing hinges, you needn't even push the doors shut to close them. The ingenious design allows the cabinet doors to shut softly without slamming, which cancels the noise found in cabinet doors with standard hinges. Technically, the soft-closing hinges have a spring which activates the automatic closing when the doors are at the last twenty-five degrees of closure.
Self Closing vs. Soft Closing
Oftentimes, buyers confuse self-closing hinges with soft-closing hinges. The truth is all soft-closing hinges feature the self-closing feature since it is central to reducing the noise factor. However, not all self-closing hinges are necessarily soft-closing. In fact, many self-closing doors slam shut as well. In the cabinetry parlance, soft-closing doors automatically mean they are self-closing as well.
Why Self-Closing Cabinet Door Hinges?
Slamming cabinet doors are quite disruptive, which not only damage the doors but affect the longevity of your cabinetry as well. Self-closing cabinet hinges prevent doors from slamming and help ease into the closing position with just a gentle push. Here are some common reasons why your cabinets should have self-closing door hinges.
You Want a Noiseless Kitchen
This is the primary objective of self-closing cabinet door hinges is to avoid noise, especially when they slam shut. Nobody likes noises in their kitchen unless, of course, they come from your mixture grinder. With the self-closing mechanism, the doors close effortlessly and infuse calmness into your kitchen space. If you're allergic to noise, this means a lot.
You Want to Avoid Touching Your Doors
While cabinet doors with regular hinges require manual intervention for closure, self-closing cabinet doors require little efforts from the user. On a busy day, when your hands are wet or dirty, you want to avoid touching the doors, you want to close the cabinet doors with a little nudge or bump. That's where self-closing hinges play a huge role.
You Want to Avoid Potential Health Risks
This might sound ridiculous on the surface, but self-closing cabinet doors actually help you avoid spreading bacteria in your kitchen. Here's how: Handling chicken, fish or any other meat can easily attract bacteria to your kitchen cabinet door surface if you're touching the doors without washing your hands clean. However, you can easily avoid touching your doors when they operate on self-closing door hinges.
Recommended Reading
Types of Hinges for Inset Cabinet Doors
Choosing the right hinges for your cabinetry requires careful consideration of your cabinet components, especially when it comes to adjustable and self-closing hinges. The selection of the right kind of hinges depends largely on the type of cabinet, style, and functions of the doors. The door hinges will differ depending on whether your kitchen cabinets feature frameless to face frame design. Likewise, cabinets featuring inset doors, full overlay, and partial overlay will require a unique approach.
That said, installing self-closing hinges on inset cabinets is one of the demanding jobs that requires razor-sharp craftsmanship and great attention to detail. Even a minor slip-up can affect the way doors are supposed to operate. At Maplevilles, we take utmost care of our inset cabinets while crafted the inset Shaker doors and installing self-closing hinges.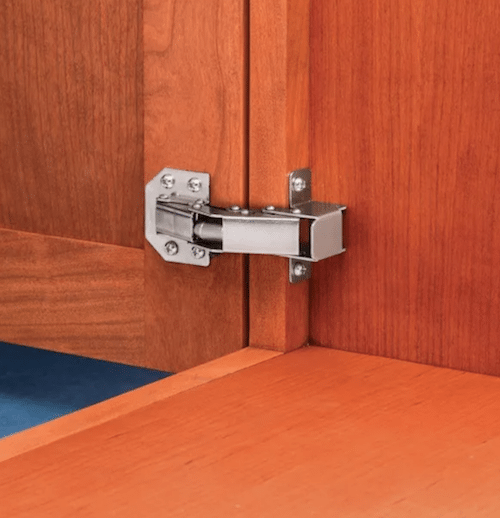 Technically, inset doors sit inside the cabinet opening and sit flush with the front edge of the face frame. This essentially means the cabinet doors should be perfectly sized to fit inside the cabinet opening. The gap between the door (from all sides) and the face-frame (aka reveal) must be uniform for the hinges to work seamlessly. This is exactly what makes manufacturing inset cabinets a herculean task.
Again, inset cabinets can use several types of hinges depending on the cabinet styles.
Concealed Hinges
Popularly called European hinges, concealed hinges remain invisible when the doors are closed, which offers a clean and sophisticated appearance to the inset cabinets. At Maplevilles, our inset cabinets use self-closing hinges that are both adjustable and concealed.
Semi-Concealed Hinges
As the name suggests, only a portion of these hinges are visible when the doors are closed.
Wrap Around Hinges
A portion of these hinges is bent to wrap around the door.
Non-mortise Hinges
These hinges are surface-mounted.
Here's a Comprehensive Guide on Choosing Hinges Based on Your Cabinet Style.
The role of inset cabinet door hinges goes much beyond infusing silence in your kitchen. From improving the lifespan of your cabinetry to amplifying minimalist profile of your kitchen space to boosting your peace of mind, the self-closing hinges are a must-have feature for your cabinet upgrade if you're planning kitchen renovation anytime soon.