How to Create a Focal Point in Bathroom: 5 Great Tricks
Bathroom renovation can be a tricky undertaking. You want to  strike the right balance between function and aesthetics. However, in the chaos of renovating the bathroom, it's easy to get distracted and end up with a bathroom that looks too cramped for comfort.
Well, maybe the bathroom in the image above would look cramped anyway but sometimes, without much planning, even bathroom with relatively larger real estate would still look just as clumsy.
There are several elements in a bathroom and each one of them vies for your attention, which affects the aesthetics. The trick is to create a focal point in your bathroom in order to create visual interest and infuse a contemporary look.
So, what is a focal point, you ask?
Well, the focal point in your bathroom is the one element that visually anchors the rest of the elements. It's the one element that stands out in the design palette. The focal point in your bathroom unifies the entire space, amplifying its aesthetics even further. No wonder then why it's one of the hottest bathroom remodeling trends.
There can be many focal points in your bathroom; here are five of the most popular elements that transform the look and feel of your bathroom when used a focal point.
Freestanding Bathtub
A standalone bathtub can be an ultimate head-turner in your bathroom if you know how to use to amplify your bathroom decor. The popularity of lifestyle shows on TV have contributed to the increased adoption of standalone bathtub.
Bathtub has always been an important feature in bathroom renovation. However, when you use standalone bathtub as a focal element in your bathroom, make sure you leave plenty of space around it for easy cleaning and maintenance. The standalone bathtub should preferably be paired with a freestanding tap as well.
Bathroom Vanity
Without any doubt, vanities are the key elements in any bathroom renovation. They not only offer easy storage for your bathroom essentials but also add to your bathroom's visual appeal.
However, when you choose vanity as the focal point of your bathroom, you should make careful planning and take a few things into consideration.
For example, you want to choose the sinks, tapware and benchtops so that they make a perfect combination and complement one another.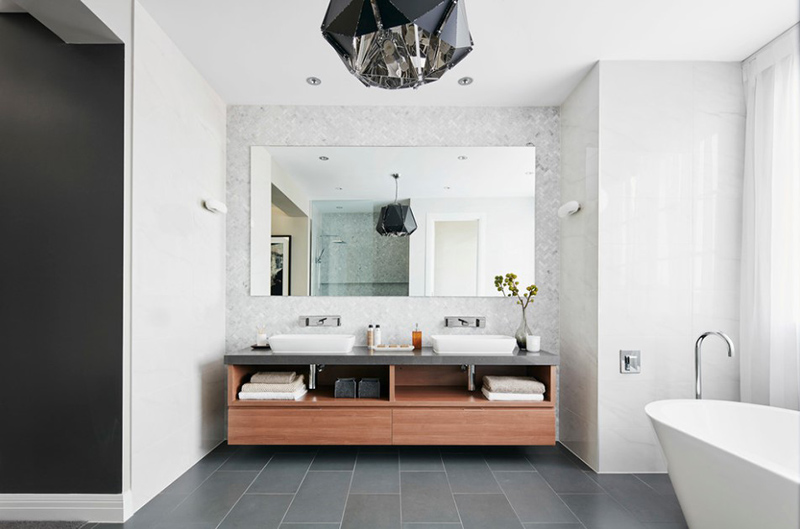 Depending on the layout of your bathroom, you can choose from freestanding vanities, double sink vanities and floating vanities. Each of these three vanities bring their respective advantages to the table.
While a freestanding vanity allows ample storage space under the sink, a double sink vanity serves a master bathroom or ensuite, especially that has relatively higher traffic.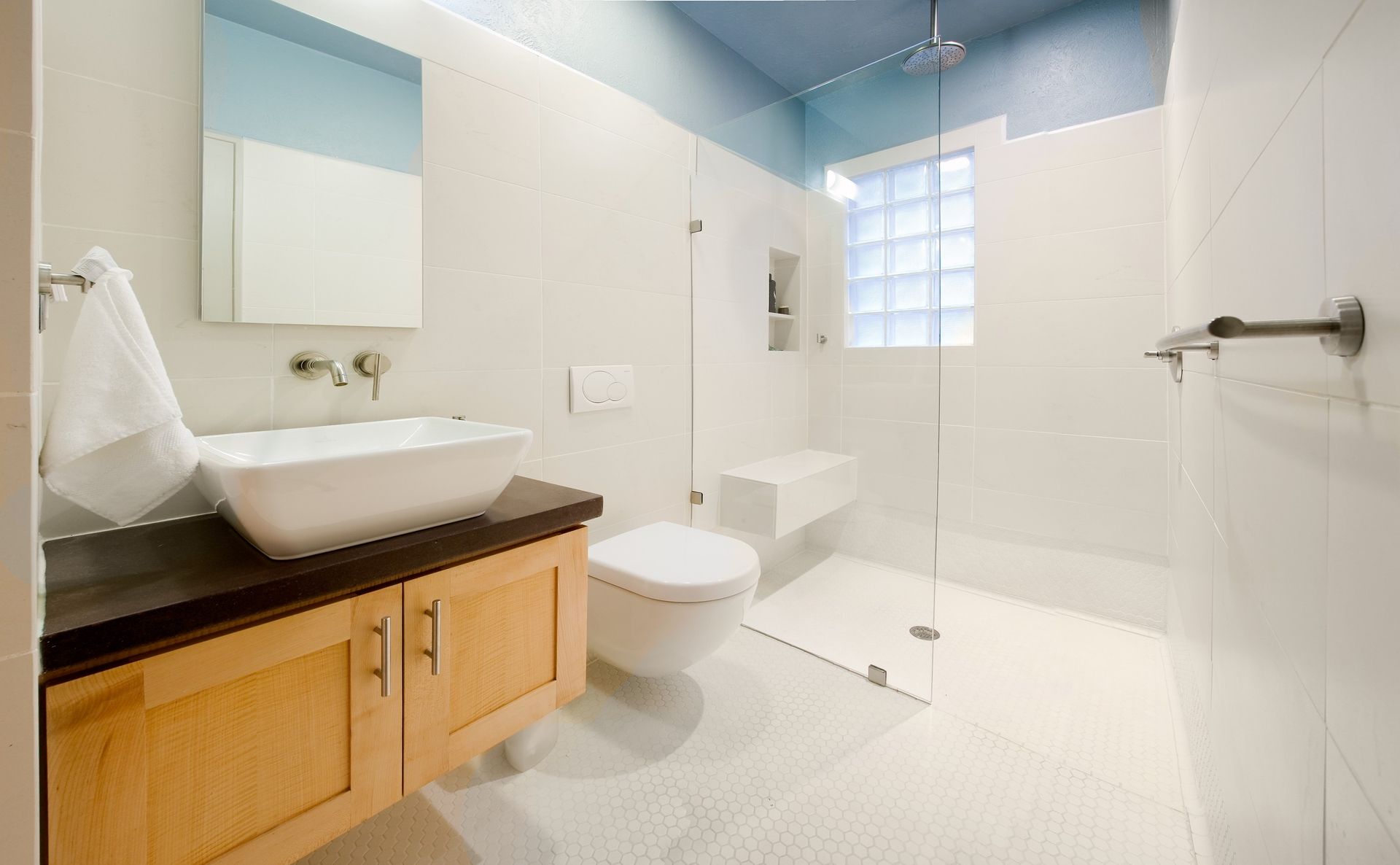 Likewise, floating vanity infuses a great aesthetic appeal into your bathroom by taking less real estate and making your space look bigger than it is.
Bathroom Mirror
Gone are the days when bathroom mirrors would be treated as just another element in bathroom renovation. Today, they make a huge style statement, thanks to the evolving aesthetics in bathroom remodeling dynamics.
Deciding on the right bathroom mirror is a tough one — framed or frameless? Round or rectangle? Single or multiple?
While choosing a bathroom mirror as  focal point of your bathroom, you need to keep in mind a couple of rules:
Proportions: The size, style and position of your mirror should be proportional to your vanity.
Width: The mirror and vanity should have similar width so they line up perfectly and create balance. If you have a double sink vanity, you can either go for a single mirror wide enough to accommodate both sinks or install multiple mirrors.
Height: With regards to the height of the mirror, it's really subjective. If you want to create an open look in your bathroom, the higher the mirror, the better view angles it creates.
Shower Feature Wall
Your shower area can also be the focal point of your bathroom. Apart from using trendy shower heads and bath taps, you can also introduce a feature wall.
There is a wide range of modern tiles that can offer your feature wall a vibrant look, making it a point of interest in your bathroom. For example, you can choose from limestone or marble to complement the natural decor. Alternatively, go with geometric or patterned tile for a sophisticated look.
As shown in the example above, you can pair your feature wall with a frameless shower glass screen for a clean, airy, elegant look.
A Large Window with a View
Modern homeowners aspire for a bathroom retreat that offers a spa-like experience. Needless to say, having a large window helps you with natural lighting as it takes your closer to nature and fills your bathroom with positive vibes. A large window is also the focal point of your spa-like bathroom which makes your feel surrounded by nature.
Recommended Reading: 7 Hottest Bathroom Remodeling Trends