Kitchen islands are a must-have for every modern kitchen remodeling project. They not only allow a smooth workflow but offer useful space for food preparation. Well, many households use multi-purpose kitchen islands as a dining table as well.
That said, consider their standard proportions, kitchen islands are usually considered ideal for standard-sized kitchens. Does that mean small kitchens can't accommodate islands?
Here are a few tips on how to add a kitchen island for small kitchen remodeling projects.
Small Kitchen Can Accommodate Islands
Contrary to common kitchen remodeling myths, there's always a kitchen island for small kitchens, regardless of its size. You can even order customized kitchen islands depending on your design preferences to suit the unique layout of your kitchen.
Most companies can customize the depth and height as per your space. Therefore, even if your kitchen is small, it can accommodate an island.
Determine Your Clearance Zone
Regardless of the size of your kitchen, you should always consider the available "clearance zone" before ordering a kitchen island.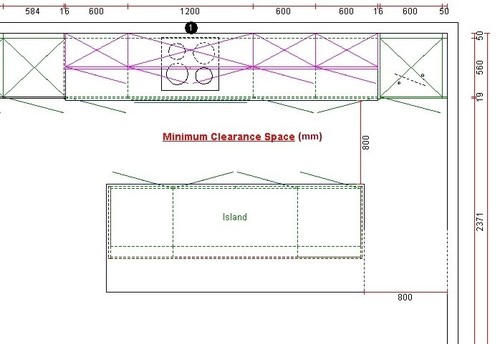 So, what is the ideal clearance zone?
Clearance zone is essentially the space between the work areas, i.e, countertop edge and island's countertop edge. According to kitchen remodeling experts, the ideal distance for the clearance zone is about 3 feet. Therefore, before you install a kitchen cabinet, always factor in the size of your kitchen, the number of family members, and their preferences.
Consider Safety
While the aforementioned clearance zone adds efficiency to your kitchen, it's also important to consider safety. Leave at least 3 feet between two fully extended drawers of opposing cabinet runs.
Moreover, make sure the kitchen island doesn't obstruct the opening of all doors, drawers, ovens, and dishwashers. The last thing you want is risk tripping over any doors or drawers.
Have Your Kitchen Island Tailor-made
If you have a small kitchen and you want to maintain the safe clearance zone in your layout, consider having your kitchen island tailor-made. While you're at it, design your island so it combines seating and storage solutions within the available space.
In the example above, the customized island maintains a safe clearance zone of 3 feet on either side while making itself functional enough for seating and storage.
Minimum Dimensions for a Small Kitchen Island
Should you plan for a small and customized kitchen island, make sure it's functional. The thumb rule says the minimum size of a fixed kitchen island should be 40 by 40 inches. An island of these sizes offers just about enough workspace for one person. Moreover, you need to have a clearance zone of 31½" inches for this island to make sure safe passage.
Kitchen Island-style Alternatives
What if you had a kitchen that is too small even for the smallest recommended dimensions (40 by 40 inches)? Unless you want to make structural changes in your kitchen, i.e pull down a wall, there are cost-efficient alternatives to a kitchen island.
Choose from a butcher block, moving island or trolleys, all of which can double as storage units as well.
Consider a Kitchen Peninsula
Even your kitchen is too small or the existing layout of your kitchen isn't ideal for an island, the peninsula is a great alternative.
It's fixed at one point and offers nearly the same critical functionalities you would get in a full-fledged kitchen island.
Final Thoughts
Planning a kitchen island in a small kitchen remodeling project can be tricky. They need proper planning and perfect execution to work efficiently. If you're planning to add a kitchen island in your small kitchens, make sure you consider the kitchen layout and customize it to fit your present and future needs.