Doors vs Drawers — What is Best for Your Kitchen Cabinets?
In modern kitchens, the usual choice when it comes to storage is to opt for drawers especially under the benchtop or countertop in place of base cabinets and have just a few standard cabinets with doors above the countertop. The advantages are many which are why people overwhelmingly opt for drawers under the countertops.
Drawers are Better than Lower Kitchen Cabinets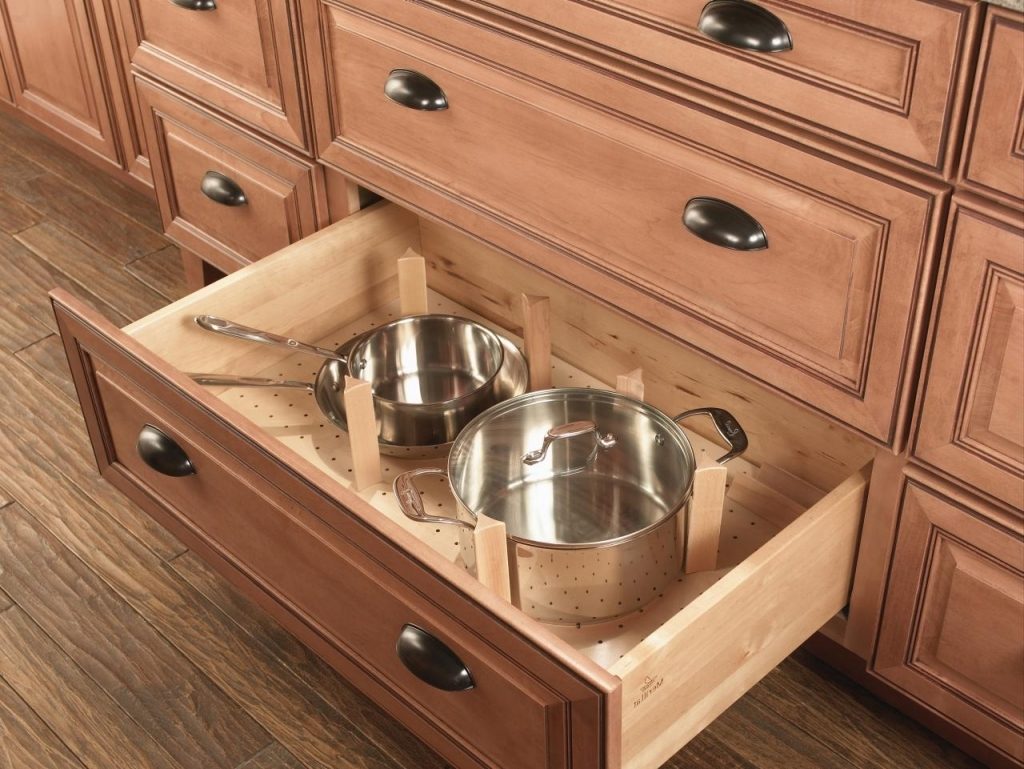 While upper cabinets are great for storing light items and displaying glassware, drawers for base cabinets work best as they enable the maximum use of storage space. Even if the drawers are two feet deep, nothing gets lost inside drawers as you can pull the drawer out to store and retrieve items.
When these drawers are close to the dishwasher, it is super-convenient to remove dishes from the washer and store them in an organized fashion inside the drawers.
For heavy items too, you are saved from doing 'heavy lifting' and unhealthy bending when you have drawers which can be pulled out for storage and retrieval of those heavy items.
If the drawers are placed on the island, that can be very convenient if your family likes to have meals on the island. Even kids can access their own cups and dishes which can be stored in a separate drawer.
Drawers are Best for Organizing
You can opt for different ways to organize your plates and pans inside the drawers. Spring-loaded, wood-toned dividers can help segment the drawer into zones. You can have the dividers stacked double-high so that your stacks of bowls and plates remain in place and don't crash or create a mess. In smaller kitchens with narrow aisles, drawers can also be preferable as they cause less of an obstacle to kitchen traffic.
Whether it's kitchen knives, cutlery, plastic bottles, or cereals, storing them in specified drawers is the best option from an organizing perspective if you don't want your knives and cutlery mixed up or plastic bottles taking up counter space. Extra fruits and vegetables that cannot be stored in the refrigerator can also be stored in a drawer with a wire-mesh front.
You can have separate bins for recycling and compost items and general trash inside designated drawers. Cleaning items need not all be in a mess under the kitchen sink but stay in an organized fashion inside drawers with dividers.
Drawers offer Good Ergonomics
Simple drawers can be opened with one hand which is useful when you are transferring a heavy item or if you have to access the drawers frequently or if you need to open the drawer while you are in the middle of cooking and carrying something in one of your hands. Nor do you have to crouch down to access the backs of cabinets that might be two feet deep.
Base cabinets with doors and rollout shelves are suitable for storing items that are used somewhat infrequently such as mixers and other small appliances.
Drawers are Best for Corners
Corner cabinets are often under-utilized storage spaces. If you plan your kitchen remodel so that you have specially made corner drawers, you can make the best use of that space to store items that you use infrequently.
Kitchen Cabinet Drawers offer Variety
While kitchen cabinet drawers are more expensive in general than kitchen cabinets with doors, you can decide what type of drawers you want based on your needs and preferences. The materials available include hardwood, engineered woods such as particle board or medium-density fiberboard (MDF), and laminated wood.
Drawer glides can be side, top, or corner-mounted and these are useful if your drawers are going to be frequently used and contain heavy items. Quality drawer glides can support up to 100 pounds but they come with different weight ratings and they can be a three-quarter extension or full-extension slides.
So, Kitchen Cabinets with Doors or Drawers?
Finally, your decision will revolve around cost and convenience as well as kitchen aesthetics. You may opt for a combination of upper cabinets and drawers under the counter. Your decision should take into consideration what type of cook you are and what cooking items you use and store in your kitchen. For storing large-sized items, you may want to have a few lower kitchen cabinets.
While drawers are the more expensive option, they can be a long-term investment and make great sense when you are seeking to own your home for a long time or if it's your retirement home. The age of the occupants of your home also matters as older people will want to avoid crouching and bending too often so that they don't hurt their knees or backs.
These days, there is great versatility available to choose from when it comes to kitchen cabinetry and you can explore and choose what fits your needs best.