4 Things to Consider When Choosing Kitchen Backsplash
Gone are the days when backsplash was a means to protect your kitchen walls against splashes. Certainly, it has assumed much significance in the modern kitchen, have been available in a wide range of materials, colors, textures, and styles.
According to the Houzz Kitchen Study, 2018, homeowners are splurging on backsplash just as much as they are investing on floors!
Why not! The kitchen backsplash, much like the flooring, can also add a personality to your kitchen and become the focal point of your entire kitchen.
If you're feeling overwhelmed with the number of options in the market, let the following tips help you choose the right kitchen backsplash your wallet can afford.
Cost of Kitchen Backsplash
Cost is definitely the first thing you should consider before purchasing kitchen backslash. Every homeowner has a different budget for kitchen remodeling and while some of them just want to save money, others want to splurge on premium backslash options.
When it comes to affordable backsplash options, you can choose from ceramic, slate, pebble, chalkboard, porcelain and other natural stone materials. Likewise, those having a higher budget may choose from premium options like glass and stainless steel.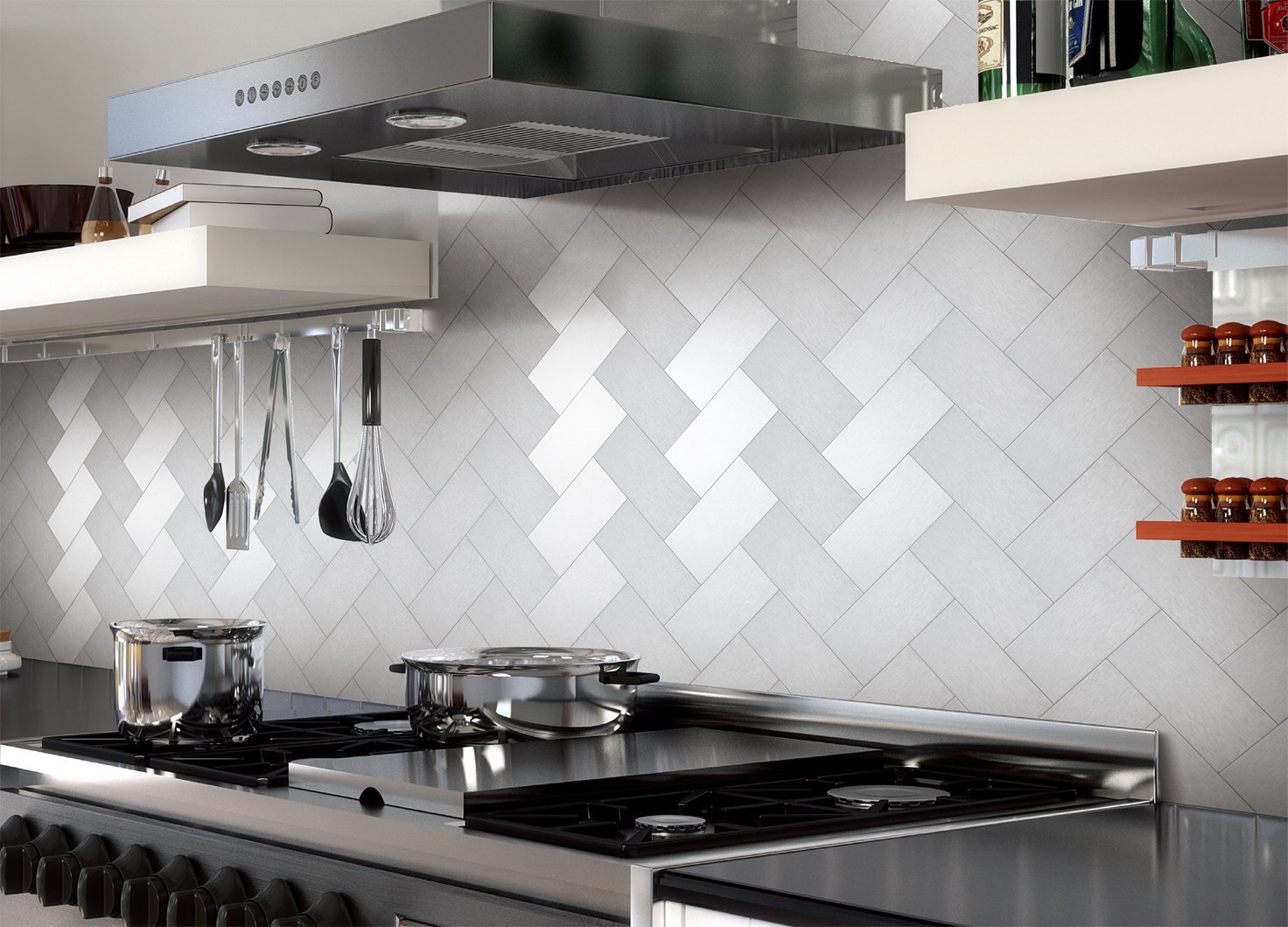 However, if you have a small kitchen area, you might want to go for premium backsplash options if you can afford it. According to the Houzz Kitchen Study, 2018, the backsplash is a top upgraded feature for the renovating homeowners, especially in major remodel of small kitchens.
Apart from the cost of materials, you also need to consider the cost of installation. If you're DIYer with some experiencing in installing a backsplash, you can save on labor charges. However, if you're not, remember that installing tiles can be a tedious undertaking. Plus, you may need to hire a professional grouter as well. Sometimes, hiring a pro is a smarter choice. Therefore, you need to consider the cost of hiring a pro as well.
Are you planning any long-term changes that may affect your kitchen backsplash? For example, if you switch to an alternative heat source, you may have to alter your structure, which essential means undoing the hard work you have put into installing your kitchen backsplash.
Kitchen Backsplash Styles
Apart from the cost, style and personal preference also play a key role in the selection of kitchen backsplash. While there is a wide range of styles to choose from, you need to consider the focal point of your kitchen. When chosen indiscriminately, a kitchen backsplash can overwhelm the kitchen countertop or even cabinets. Therefore, you need to consider the role of your backsplash. As a thumb rule, kitchen backsplash should complement your existing countertops or cabinets or both. However, the backsplash is prone is to grease; make sure the backsplash is easy to clean.
Here are a couple of popular backsplash styles to consider:
Subway Titles: Subway tiles are a popular choice among homeowners because they are not only sleek and elegant but easy-to-clean as well. Available in white ceramic pieces, they come in a wide range of size, color, and finish. They are also affordable for most homeowners.
Small Pebbles: If you want to infuse a rustic charm into your kitchen space, pebble backsplash is a great option for you. Available in natural stones with an impression of 3-dimensional appearance, pebbles are a cost-effective option for many.
Glass Mosaics: Although on the pricier side, glass mosaics make a style statement of their own. Being colorful and reflective, they glass mosaic backsplash reflect natural light source, making the kitchen look brighter and larger than it is.
Kitchen Backsplash Maintenance
Apart from style, health and hygiene are definitely important aspects of kitchen backsplash selection. Different types of materials handle stain and grease differently, which decides the amount of time you should spend on cleaning them. Plus, there are health considerations as well. Consider the following points while choosing a material.
Subway Titles: If you're looking for a kitchen backsplash that requires very little upkeep and cleaning efforts, subway titles are for you. With their inherent properties to ward off mold, bacteria, and viruses, subway titles are one of the most hygienic backsplash options out there.
Chalkboard Backsplash: Some homeowners choose chalkboard backsplash because of its versatility and uniqueness in design. Plus, it's easy to clean with little water. However, it may not be ideal for people with lung conditions as the chalk dust could be detrimental to their lungs.
Glass Titles: Glass titles are ideal for those who are looking for backsplash options that require little efforts to clean the stains and mildew. Glass titles resist stains and grease naturally, making it easy for you to clean them. A great option for those wary about health implications.
Granite Backsplash: While choosing kitchen backsplash, sometimes you need to choose utility over style. Granite backsplash is a case in point. It's popular for being unique and beautiful; however, it's naturally porous and prone to grease stains, which makes it a natural harbor for bacteria. Although sealing the granite offers protection against the bacteria proliferation, the process you need to repeat at regular interval. In fact, this drawback applies to all kinds of natural stones.
Stainless Steel: Being a premium backsplash option, stainless steel offers a range of benefits for homeowners. They last longer and don't corrode or stain. Plus, they reflect well, making the kitchen seem airy. However, they are prone to grease and fingerprint impression, which means they require frequent wipe-down.
Placement of Kitchen Backsplash
The placement of kitchen backsplash also accounts for the kitchen renovation budget. The conventional practice is using backsplash on the wall around the sink and stove. However, modern kitchens demand different treatment. Apart from its practical purpose, kitchen backsplash adds a style statement. If your kitchen doesn't have any wall cabinets, the backsplash can run all the way up to the ceiling. In such a scenario, the backsplash will demand a higher budget allocation.
Consider the following factors for the placement:
#1: Kitchen Layout: The kitchen layout decides the placement of backsplash. The backsplash design may differ depending on U-shape, L-shape, enclosed or open kitchen design concept.
#2: Kitchen Decoration: The placement of backsplash also depends on the specific style or decor you have in mind. The backsplash can run all the way up to the ceiling if you have no wall cabinets or upper shelves. Some homeowners opt for a decorative accent wall while others only install it above the stove. It all depends on your personal style, layout, and preferences. Shorter backsplash means you spend less on the backsplash.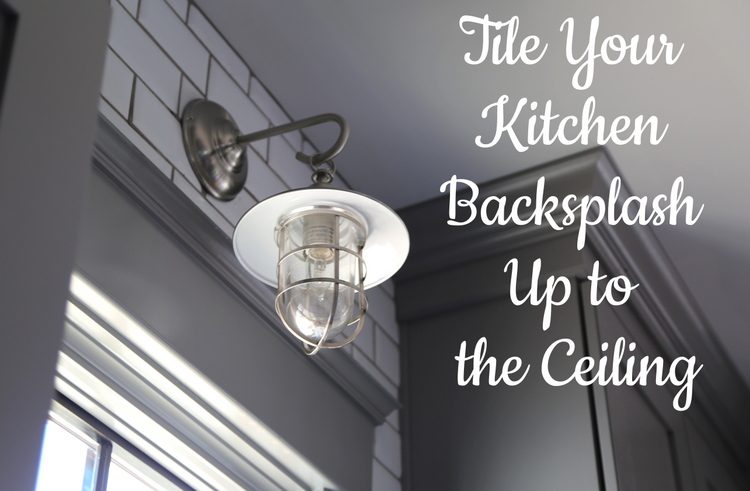 #3: Architectural Details: The location of backsplash also depends on the architectural details of your kitchen. In the example below, the location of the colored glass backsplash complements the shelf as well as countertops.
So Which Kitchen Backsplash is Right for Me?
The kitchen backsplash is no longer just a tool to protect your wall around your countertops. With the ever-evolving kitchen decor, they are a style statement now. The sheer number of materials, textures, styles, and colors can make your head spin. With the aforementioned tips, hopefully, it should be easy for you to narrow down your options and pick the best backsplash your kitchen deserves.