5 Cheap Kitchen Revamp Ideas for a Fresh Look
A kitchen is a place where you spend most of your time at home. Therefore, it needs some care and upkeep periodically. Instead of going for an annual major overhaul, you can update your kitchen more frequently in small proportions. This way, your kitchen will always feel new without hurting your wallet. Plus, it is likely to offer a great return on investment in the long run.
Here are five cheap kitchen revamp ideas to infuse a fresh look into your kitchen and keep you motivated.
Custom Panels for Refrigerator
There are a few things in your kitchen that break the uniformity of your cabinet design. Depending on the design and layout of your kitchen, you might consider a new cabinet covering for them from time to time. For example, you can conceal your refrigerator so that it matches the rest of your kitchen cabinetry. By incorporating custom panels into your refrigerator, you can let it melt into the surrounding rather than stick out from the rest. Same goes for the rest of the appliances as well. Of course, you want to make sure such updates are well within your kitchen renovation budget.
Alternative to Regular Kitchen Islands
Kitchen islands are a hot favorite among homeowners these days. However, they also need ample space and clearance zone in your kitchen. Not every homeowner can afford to go for a standard island for space as well as budget reasons. If this sounds familiar to you, you can opt for some simple island alternatives instead. Islands are not only about functionality but also about aesthetics as well. Even a stylish vintage table can offer the same utility as a regular island, and many reasons for the family to gather around it.
Conceal Kitchen Storage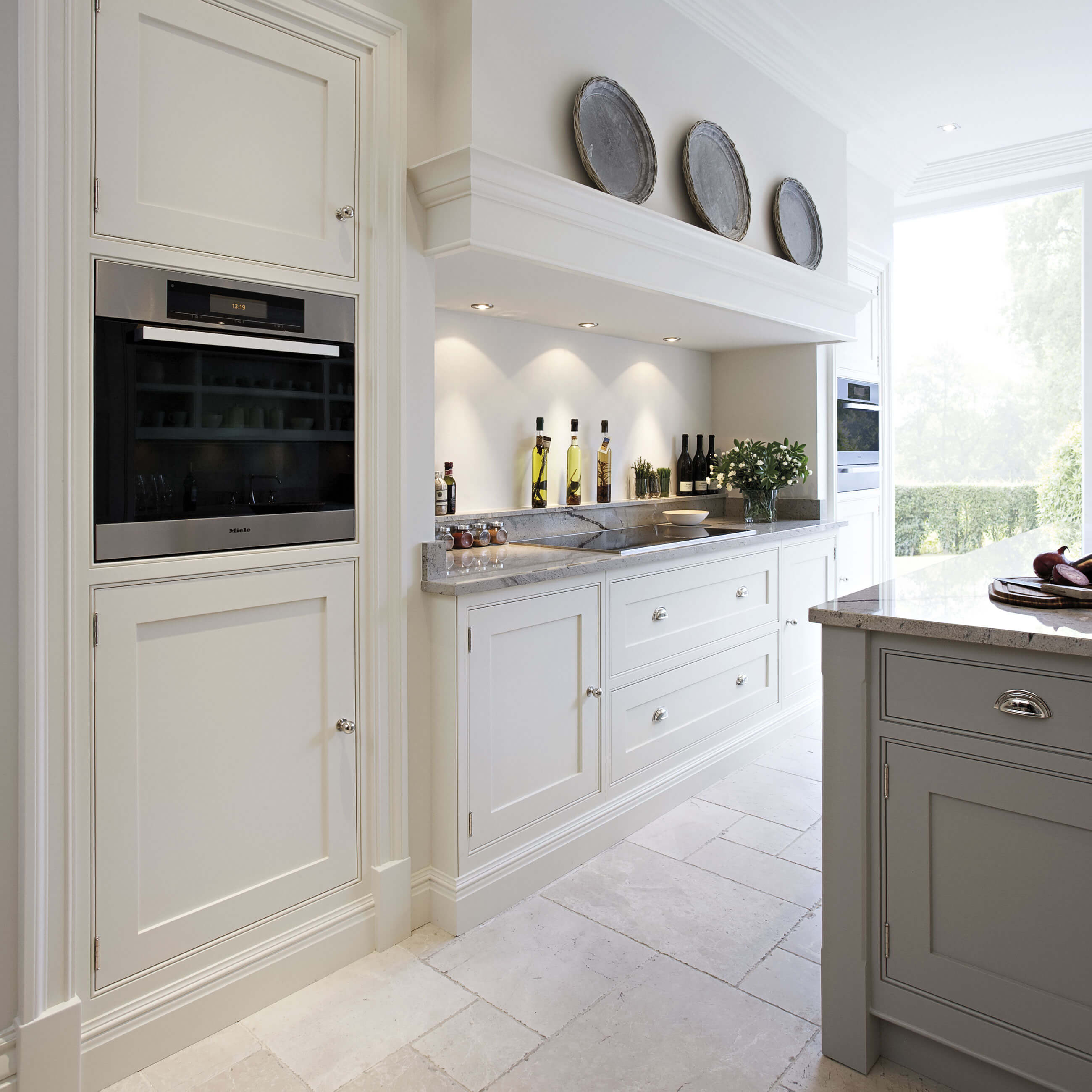 If you have an open kitchen that's integrated into your living room, you don't want it to appear like a kitchen when it's not in use. This approach requires that you conceal the kitchen storage by storing as much underneath the countertop as possible. In order to maximize your base cabinet storage space, you need to optimize the kitchen corner storage with lazy Susan and stuff like that.
Colorful Tiles for Creative Backsplash
Open kitchens that are integrated into your living room need to look stylish, colorful and fun. Unlike a regular kitchen, when not in use, they should blend into your living room. Among many other tweaks, using colorful tiles is a great idea for a creative backsplash. They not only infuse a character into your integrated kitchen but also enhance the feel of your living room area as well. Indeed, the best of both worlds.
Incorporate Stylish Seating
If you have extra space around your kitchen island, it's a good idea to incorporate cozy (and stylish) seating such as trendy stools or a bench for your guests. While infusing a unique personality into your kitchen decor, they also help when you want to entertain your guests while cooking.
Final Thoughts
The above cheap kitchen revamp ideas are just the starting point to what you could do to remodel your kitchen in small installments. From redoing the countertop to floor titles, the possibilities are simply endless. Your kitchen doesn't necessarily need a major overhaul all the time. Small changes at regular intervals can keep it fresh, adding enduring novelty to your favorite place.