When faced with the exciting and expensive prospect of building a new kitchen or renovating an existing one, you'll need to take some key decisions such as kitchen cabinet materials. The materials are many but wood rules the roost!
Being the most preferred and widely used kitchen cabinet material, wood ensures longevity and a variety of classy finishes making your kitchen distinctive and — if you have an architect's sensibilities — possibly unique.
Woods differ in their texture, color and grain and they also change over time based on sunlight, humidity and the simple passage of time.
For example, cherry is reddish-brown while red oak is lighter brown. Maple is also fine and lighter than cherry while red oak is the one with rich texture and a distinctive pattern of grain.
Among other kitchen cabinet wood types, while pine is cheaper, mahogany is quite premier! Alder, birch, hickory and walnut are even more options.
Maple and hickory, as well as trendy cherry, are the preferred domestic hardwoods for building face frames and cabinet doors. Maple and hickory resist denting and scratching better than softwood varieties such as alder, mahogany, or walnut.
Red oaks with arched grain patterns are commonly used by cabinet makers and white oak has straighter grains and costs more than red oak.
Red mahogany with straight grains and dark and rich brown walnuts are commonly used hardwoods for making cabinets. Mahogany exudes warmth while walnut evokes elegance.
Hardwoods can be stained but maple and birch may blotch if insufficiently prepared for the stain while oak and pine absorb the stain quite fine. Walnut and cherry look best without any stain.
Kitchen Cabinet Wood Type: Your Options
Just as there is a perfect wood that goes into the making of a Stradivarius and like the storied piano-makers at Steinway use specific woods such as spruce, maple, and mahogany because of very specific reasons to do with the strength and musical character of those woods, your kitchen cabinet wood choice should be made while being cognizant of the qualities of different wood species.
Here's a brief look at some of the common kitchen cabinet wood types that are used for making kitchen cabinets.
Red Oak Cabinets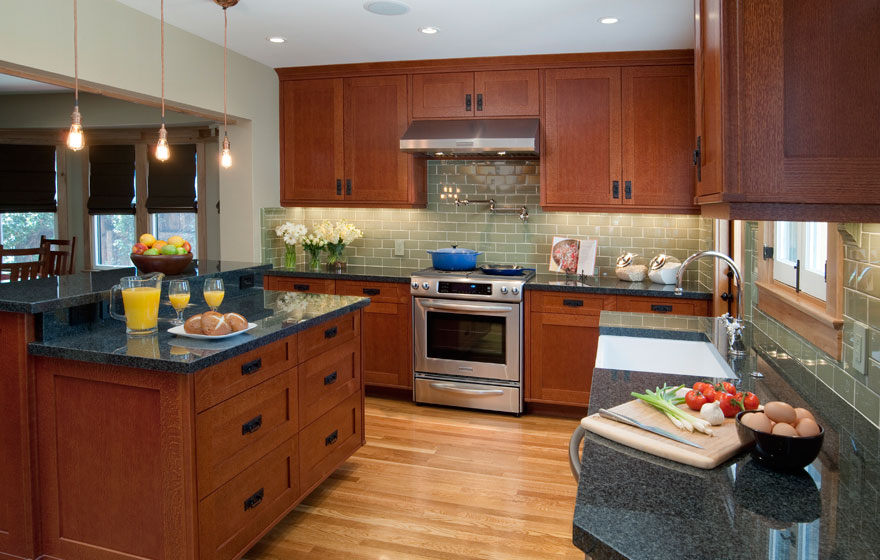 Red oak is strong, durable, reasonably priced, comes in a wide range of styles and finishes and features pronounced grain patterns. Red oak kitchen cabinets are available as stock, semi-custom, and custom-made cabinets.
White Oak Cabinets
White oak is as durable as red oak and a bit stronger. White oak has subtler grains and golden tones. White oak cabinetry is typically custom options and often quarter-sawn for custom cabinetry sporting an Arts and Crafts or period look.
Oak is sturdy and stain friendly. Oaks have distinctive grain patterns and become even more noticeable when treated with darker stains.
Hickory Cabinets
Hickory is lighter than oak with similar grain patterns and strength. Hickory cabinets give off a rustic charm. Hickory cabinets have a unique appearance and can last for decades.
Cherry Cabinets
Cherry is more expensive than hickory. Cherry cabinets are hard and they can be used to give a kitchen a contemporary look and feel. Cherry darkens with age and is often stained. Cherry looks best in deep mahogany or walnut shades and cherry cabinets can be given both lacquer or matte finishes.
Hard Maple Cabinets
Hard maple is a common kitchen cabinet wood type for semi-custom and custom cabinets. It is a light colored wood which is slightly more expensive than oak. It can be stained but a clear or natural finish gives it a light, contemporary look. Maple is sturdy and durable and features fine texture as well as a smooth, uniform grain. Maple can have an individual character which gets accentuated with staining.
Birch Cabinets
Birch wood is relatively inexpensive and with staining, can acquire the look of mahogany, walnut or maple. Birch is particularly suitable for staining because of their lack of distinctive grain patterns. Yellow and sweet birch are both durable and with its tensile strength, yellow birch holds nails well. Birch cabinets are typically available as stock and semi-custom lines.
Pine Cabinets
Pine is a softwood species that is used to make cabinets that give a look of mountain cabins but with other kitchen accoutrements such as countertops and flooring, pine cabinets can be part of a futuristic looking kitchen as well. Pine is light-colored and takes staining well though you would need to apply several coats to achieve the right look since pine absorbs a lot.
Kitchen Cabinet Wood: The Alternatives
Some wood alternatives include laminates and Thermofoil and using these will drive your cost down. These are readily available options and you can opt for them if you are in a hurry but obviously, their construction is not very strong.
Manufactured wood products known as substrates can be of different types: particleboard, medium-density fiberboard (MDF), and Plywood. While wood tends to expand and contract with changes in the ambient temperature, MDF stays the same and the paint job keeps looking good for years. There are things you can do with MDF that you either cannot with real wood or it is quite complex to achieve with real wood.